Our whole, raw milk is currently available at two locations.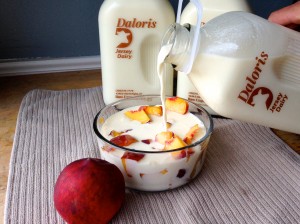 1. Manwaring Cheese carries Daloris Dairy's half gallon glass containers and gallon plastic containers. It is located at 458 N 4000 E Rigby ID. Exit 322 off highway 20, turn right towards Wendy's Restaurant and then right on Rigby Lake Dr. at the four way stop and go 3/4 of a mile, Manwaring Cheese is located on the right side of the road.
---
2. G's Dairy Delights.  They have sensational ice cream, and they also  carry our raw, whole milk in gallon containers. 600 Handcart ln Rexburg, ID.